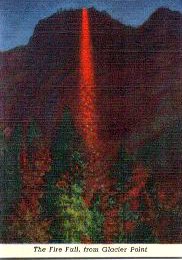 Fire Fall from Glacier Point
For 88 years, the nightly
Firefall
in Yosemite National Park had been a unique tradition. The last Firefall occured in 1968 when the Park Service Director decided it was too detrimental to continue the ritual. It was man-made after all, and the crowd and road congestion had become a nuisance, not to mention the ecological impact.
High atop Glacier Point, a huge bonfire was built using 10 or more wheelbarrows of red fir bark. When the fire died down to bright burning coals, the traditional calling of "Let the fire fall!" would resound from the canyon floor, and the embers would be pushed over the ledge in a continuous manner to simulate a waterfall of fire.
After the passing of nearly 40 years, all that remains as testament of its existence is a faint scar where the fire burned away the cliff's lichen. Eventually that scar will heal, memories of those who witnessed it will pass, and a small magical part of American history will fade away into obscurity. I wonder how many other such parts of Americana have been lost forever, the stories never told to the next generation?
While the adventuresome look forward into the bright promise of a futuristic robot-wired world, I turn backward to peer through the fog of years, straining for a connection to ancestors and forgotten family lore. Like echoed notes from the Indian Love Call song serenading the tumbling embers of the Fire Fall, the secrets of the past sing to me in a whispered voice, "remember, remember".
I am calling you
I will answer too
That means I offer my love to you
If you refuse it I will be blue
And waiting all alone
But if when you hear my love call ringing clear
And I hear your love call echoing so near
Then I know our love will come true
You'll belong to me
I'll belong to you
When I will call our love will come true
You'll belong to me
I'll belong to you