As usual, the Easter Bunny saw his shadow and we have a nice little return of cold misty moisty weather here for our holiday weekend.
Every year I would dress my little darlings in the loveliest of light spring dresses with precious straw hats to match and little white patent leather shoes and invariably, the weather would turn cold and nasty. Didn't matter, the Easter Fashion Parade to church would go on.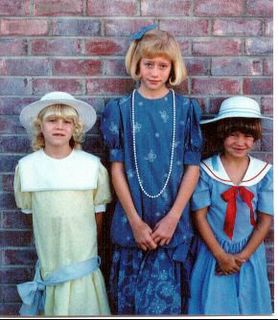 Pattie's Peeps Minus Baby Emily
In the South, Easter is the ritualistic segue into the wearing of white shoes and accessories which is repeated in reverse on Labor Day when all such shoes are banned to the deepest corner of the closet to await their annual springtime rebirth. Only trashy women ever, ever break this First Rule. For further edification, the Second Rule rails against the wearing of knee-high hose with a reinforced toe poking out of a strappy sandal. And the Third Rule, you ask? I believe it has something to do with the combination of spandex capris and thong undies. They don't call Texas the fashion mecca of the south for nothin', darlin'.
The traditional southern Easter dinner menu typically has most of the following:
Baked honey glazed ham
Mashed potatoes and cream gravy
Green Bean casserole
Broccoli cheese rice casserole
Deviled eggs ( made from the defunct dyed leftovers - always colorful with that greenish blue hue to the overcooked and now leathery white part)
*Funeral salad - a sweet salad that includes a combination of crushed pineapple, lime jello, chopped pecans, Cool Whip, and minature marshmellows. Once I forgot to get the marshmellows and used chopped up yellow and pink Peeps - actually kinda fancy!
Tossed salad with ranch dressing (see we do eat some healthy stuff)
Parker house rolls with butter
Homemade pound cake
Buttermilk Pie
(*called thusly by my family as it is the covered dish I usually take for these sad occasions, although my more oft used receipe calls for Cool Whip, pecans, crushed pineapple, Eagle Brand sweetened condensed milk instead of jello, and canned cherry pie filling. Really brightens up a table with all that pink fluff. I know we should come up with a better name, but old habits...)
Whatever your family rituals for Easter and spring, I hope you all have a wonderful gathering and that you find the special Prize Egg in your pink and yellow basket. Just leave those tacky fake bunny-ears-on-a-headband at home and never ever put them on helpless animals like your labrador retriever. (Those ignorant souls that try this with the Miss Kitty-Cat deserve exactly what's comin' to 'em.) There. My Easter tip for the year.